Our company is always on the move.
The blog is undoubtedly among the most convenient forms of modern communication. At Klasmann-Deilmann, we use our blog to share our thoughts with our partners and friends; customers and suppliers; our active, former and future employees; and (in the broadest sense) our stakeholders – in a timely manner and at an appropriate intensity. And we've a lot to say. Our company is always on the move and we want you to be a part of this.
We look forward to your feedback: do send us an e-mail or use our comments function. We'll also be grateful for any ideas as to topics you'd be interested in reading about.
Company
95 years on: a cable cra­ne spans the Ems
16.12.2016
|
|
0 Comments
Join us on a trip down memory lane
In the winter of 1921, a construction called a cable crane was built spanning the river Ems. This created a link between the 'Heseper Torfwerk' peat works and the Emshafen inland port in Meppen, which at the time provided the company with a gateway to the world.
After the First World War, the light-railway connection to Meppen was crucial for the peat works in Hesepe if it wished to achieve long-term growth. The expected war reparations made the hoped-for rail link between Meppen and Ter Apel a distant and uncertain prospect. The Emshafen inland port had a rail connection, but goods could also be transhipped here for road or water transport. However, this hub could not be taken advantage of unless the Ems was first crossed …
There was a wooden bridge across the Ems, but this was not stable enough – and too steep - for a light railway. A bridge strong enough for such a railway would have been very expensive: the Ems had to be passable to vessels at all times, yet the river's regular high water levels would have necessitated a structure at least 15 metres in height. Long ramps would also have been needed for the light railway, as it can tackle only low gradients.
A freight cableway could have provided an alternative, and might have been modelled on that at 'Torfverwertung Dykerhoff', a peat plant in the Poggenmoor area near the Lower Saxony town of Neustadt am Rübenberge (between Hanover and Bremen). However, the cableway for Heseper Torfwerk would have had to cover a distance of more than 10 km. The costs entailed – not only of purchase but also of maintenance – rendered it unaffordable.
A cable crane as the most cost-effective solution
Constructing an industrial railway with an alternative means of crossing the Ems was, therefore, the most cost-effective solution to the problem. After the war, Georg Klasmann made a crucial chance discovery at the timber stockyard of a sawmill in Haltern, where a steel cable was stretched right across the yard with a crane trolley running along it. It was able to lift and transport the wood by means of a pulley and a grab.
The solution had thus been found for Heseper Torfwerk: a cable crane would be used to transfer the loaded cars of the industrial railway to the eastern bank of the Ems and to unload the peat products in the Emshafen inland port.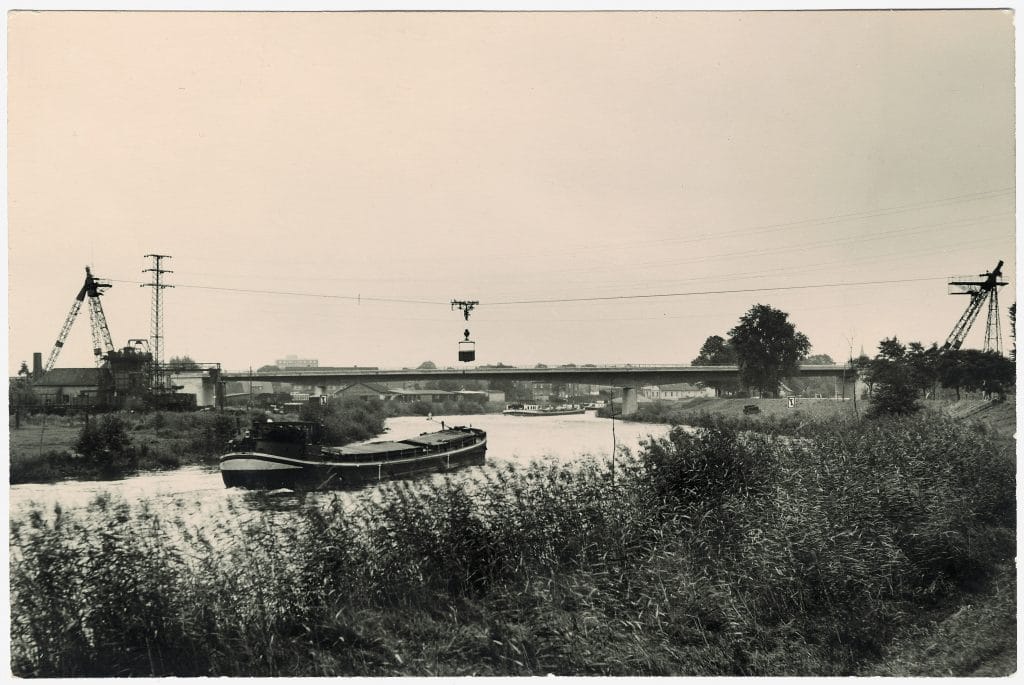 Without further ado, work on building the industrial railway was begun and the contract for the construction of a cable crane awarded. The job went to Cologne-based contractor Pohlig AG, helmed by German engineer Julius Pohlig, which had already created the first public-transport cabin cable-car system as early as 1908 in Hong Kong, as well as the cableway at Sugarloaf Mountain in Rio de Janeiro in 1913, thus gaining worldwide renown.
6.5 cm thick and 155 m in length, the supporting cable of the crane (in Meppen) alone weighed 5.5 t. It was spanned between two 20 m-high cable supports above the Ems in the winter of 1921. A 70 t tension weight ensured that the steel supporting cable constantly remained taut and prevented the cable from being overloaded in the event that an excessive cargo load was attached.
With the change from rail to road forwarding in containers and wagon-carrying trailers via Groß Hesepe and Dalum to Osterbrock station from 1969 onwards, as well as the establishment of loading facilities within the plant itself, the cable crane became superfluous to requirements in 1971. On 31 March 1974 it was dismantled along with the related loading equipment on the river's eastern bank.
Back
It's you we write for
Our blog's editorial staff prepare news and topics relating to our company's various areas of activity. Here, we briefly introduce the members of the editorial team. Don't hesitate to use the e-mail addresses given here for purposes of feedback and further information, to ask questions and suggest topics.

Corporate Editor
Dirk Röse | Head of Corporate Communications
moc.n1500735203namli1500735203ed-nn1500735203amsal1500735203k@ese1500735203or.kr1500735203id1500735203
Dirk Röse has been at Klasmann-Deilmann since 2004 and heads up the Corporate Communications division. His contributions to our blog are mainly about the company's latest news and day-to-day activities.
Competencies Editor
Hermann Limbers  | Head of Advisory Service & Quality Management
moc.n1500735203namli1500735203ed-nn1500735203amsal1500735203k@sre1500735203bmil.1500735203nnamr1500735203eh1500735203
Hermann Limbers has been with Klasmann-Deilmann since 1983. As part of the Product Development team, his contribution has included his instrumental role in establishing our range of Lithuanian growing media and our organic substrates. His present-day focuses are on international customer guidance and quality management. He consistently enriches our blog with his unique expertise on many aspects of raw materials and products.
Careers Editor
Kim Karotki | Corporate Communications
moc.n1500735203namli1500735203ed-nn1500735203amsal1500735203k@ikt1500735203orak.1500735203mik1500735203
Kim Karotki has, since 2015, enjoyed a wide-ranging remit pertaining to Klasmann-Deilmann's internal communications. Her background in journalism stands her in good stead when it comes to researching and delving into complex issues. For her blog entries, she generally takes contributions to internal communications and explores them further; she also focuses on human-resources development and careers.
Sustainability Editor
Jan Köbbing | Sustainability Management
moc.n1500735203namli1500735203ed-nn1500735203amsal1500735203k@gni1500735203bbeok1500735203.naj1500735203
Dr Jan Köbbing has been pursuing various research projects at Klasmann-Deilmann since 2015, on topics including Sphagnum farming and the restoration of former peat extraction sites. As Sustainability Manager, he also coordinates our emissions reduction measures and the preparation of our climate footprints. His contributions to our blog relate mainly to corporate social responsibility.